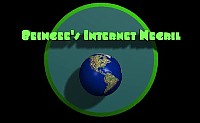 Privacy Policy Statement
This is the web site of Beingee's Internet Negril.


Our postal address is
PO Box 3033
Negril, Jamaica, West Indies

We can be reached via e-mail at beingee@hotmail.com or you can reach us by telephone at 876-957-4249.


For each visitor to our Web page, our Web server automatically recognizes only the visitor's domain IP address, not the e-mail address.

We collect no visitor data except domain IP addresses, no e-mail addresses of visitors to our Web page and no information on visitors who browse our Web page.

The domain IP address information we collect is used for internal review for validation on the Negril Message Board, which is used to improve the Negril Message Board, not shared with other organizations for commercial purposes.

With respect to cookies: We do not set any cookies.

With respect to Ad Servers: To try and bring you offers that are of interest to you, we have relationships with other companies that we allow to place ads on our Web pages. As a result of your visit to our site, ad server companies may collect information such as your domain type, your IP address and clickstream information. We use third-party advertising companies to serve ads when you visit our Web site. Our third-party advertising company also separately places or recognizes a cookie file on your browser in the course of delivering advertisements to this Site. These companies may use information (not including your name, address email address or telephone number) about your visits to this and other Web sites in order to provide advertisements about goods and services of interest to you. If you would like more information about this practice and to know your choices about not having this information used by these companies, please click here.


In the future, we may use customer information for new, unanticipated uses not previously disclosed in our privacy notice. If our information practices change at some time in the future we will post the policy changes to our Web site to notify you of these changes and provide you with the ability to opt out of these new uses. If you are concerned about how your information is used, you should check back at our Web site periodically.

Customers may prevent their information from being used for purposes other than those for which it was originally collected by emailing us at beingee@hotmail.com.

Upon request we provide site visitors with access to all information, which at the present time is only the domain IP address [including proprietary information] that we maintain about them.

If you feel that this site is not following its stated information policy, you may contact The DMA's Committee on Ethical Business Practices at mgoldberger@the-dma.org or contact us at beingee@hotmail.com.

Click here for Translation


Other area to visit in Jamaica:

© Copyright 2000. Beingee's. All Rights Reserved.