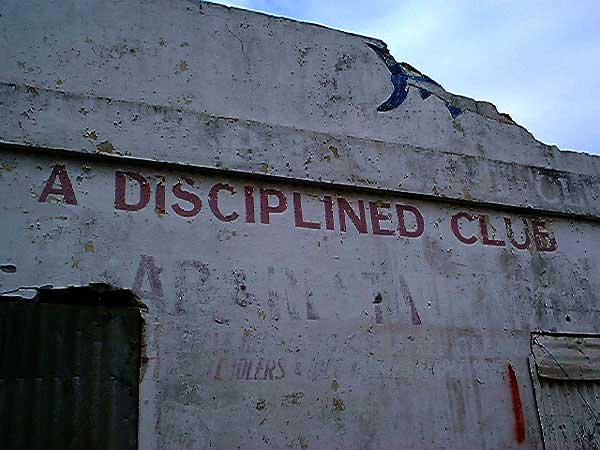 A Bit of Negril's Past
November 29th-30th, 2000
The book about Negril's formative tourism years circa 1973, Banana Shout, is now available across the island of Jamaica! There are several shops in Negril to purchase it, and if you contact the author, Mark Conklin at Banana Shout he will be happy to sign the book for you! Yah mon! The following is an excerpt from the book where our hero, Tavo Grips has just arrived in Negril for the first time thanks to his new friend, Striker! Enjoy! Note: Today's Negril Today shows the long since closed Wharf Club as it looks today.
"As Striker eased his old scow of a boat through the pink, purple, and golden coral heads, fish leaped out of the waters and soared with wings over the mirror-like ocean. Other schools of rainbow-colored fish played below the bow, as visible as if he was seeing them through an aquarium glass. Striker moored the boat against a concrete dock on the shore of an Amazon-like river that appeared from nowhere. It seemed to run from the jungle mountains beyond, and dump its brownish peat-colored fresh water into the sea at one end of the beach.

Across from this dock was a dilapidated cement block structure, peeling white paint, with a corrugated rusted zinc roof. The name Wharf Club, Willie's disciplined bar, Negril, Jamaica, and a sailfish were painted in fading red and blue paint on its front. A pulsating beat throbbed through open front doors, breaking the stillness of the hot, sweltering day. The Wharf Club stood out on the exquisite landscape like a festering zit on the nose of a Miss America contestant. Not even the palm trees, they're rustling fronds framing either side of this shack, made up for its ugliness.

He had no idea then, that this disciplined bar was anything but disciplined. It sure looked wilder than the saloons of Dodge City.

By now, Striker was more than ready to abandon his human cargo for another, much more profitable one. When all was said, Striker was a jolly sort of rough modern-day pirate, who'd been pretty kind to him. But more than that he'd delivered him unwittingly from a death sentence. In a round about way he ended up just where he wanted to be. Striker told Tavo that a few fishing and goat-farming families lived on the beach and in the red hills behind the Wharf Club. He could find a place to sleep on one of their shack floors for about fifty cents a night. He suggested the Albert family on the beach or the Conwells on the cliffs, then said so-long, he was on his own now.

He set out on foot immediately to explore his new home with an enthusiasm he'd never experienced in his life, while Striker made straight for the bar and an iced cold Red Stripe beer."
Daily Music News: The Negril Entertainment Network will be on break as a tropical depression hangs over the island bringing us some much needed live giving rain but causing problems with the phonelines! The next scheduled webcast is on Wednesday from Fun Holiday and Roots Bamboo from noon and 9pm respectively! Check back here and on the Negril Message Board for the latest information about joining the live webcast and chat in the Negril Chat Room and being a part of the NEN. The information will be posted on Negril Message Board before the next event! To make it to the Negril Message Board click on the Main Menu above or below and then look for the Negril Message Board link!
At 9:16pm - a rainy day... The temperature is 75° F, 24° C.
Click here for Translation






Beingee's Internet Negril Privacy Policy
Beingee's Internet Negril.Com is Powered By Globalnet


We use them and they can provide for all your Hosting Needs!

Other area to visit in Jamaica:

© Copyright 2000. Beingee's. All Rights Reserved.